Global Strategy Framework
Back in the Fall of 2017, Provost Kenneth G. Furton gave what is now FIU Global the charge of developing an institution-wide global strategy to advance FIU's 1972 visionary founding goal of working towards a "greater international understanding." The Global Strategy Committee (GSC) was formed and consisted of representatives from all academic and multiple administrative units. It carried out extensive research and ensured to align the global strategy with FIU's strategic plan NextHorizon 2025.
The backbone of the global strategy is its framework which highlights that our global priorities are the expansion of our global footprint through institutional, student and faculty success.
FIU Global Strategy 2025 Framework
| | |
| --- | --- |
| Global Vision | The globally engaged leader in higher education |
| Global Mission | To advance institutional, student and faculty global success |
| Global Outcome | A globally committed and competitive institution, workforce and faculty |
Global Priorities

Institutional Success

Student Success

Faculty Success

Strategic Goals

Enhance Global Reputation

Strengthen Global Institutional Collaborations

Develop Global Infrastructure

Community and Alumni Engagement and Advancement

Enhance Academic Success

Strengthen Inbound Recruitment and Mobility

Promote and Support Outbound Mobility

Enhance Support Service

Promote Global Career Readiness

Promote Faculty Global Achievements

Sustain Faculty Development for Global Engagement

Facilitate International Faculty Collaborations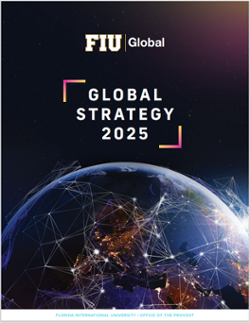 At present, the GSC has been reorganized to the Global Strategy Leadership Group (GSLG) to guide the implementation of the Global Strategy 2025 and ensure that its goals are achieved. Should you have any questions, please contact us at global@fiu.edu.