The breadth and depth of FIU's engagement with Colombians and in Colombia is the chief rationale for the establishment of this World Center, even without a designated physical in-country location. With ten formal institutional partners in Colombia, with whom we regularly exchange knowledge, resources, students and faculty, but also many others, we are finding solutions and creating new knowledge. Based on these successes, the World Center Colombia is all about enhancing current parnterships and cultivating new strategic alliances.
Such alliances come in all shapes and sizes and cover the humanities, social sciences, arts, natural and applied sciences and more. The intention of a World Center is also to connect with our alumni who are FIU Panthers for life and are keen to connect their rich knowledge and skillset meaninful alliances that make our world a better place. 
A new alliance formed in Fall 2021 is FIU's partnership with Colfuturo. Since 1991, Colfuturo has been promoting graduate studies at some of the most prestigious universities across the globe and provides scholarships to qualified Colombian students to support them with their ambitious educational goals of obtaining a master's or doctoral degree abroad. As a partner, FIU offers additional benefits to Colfuturo-scholarship recipients, such as tuition waivers and insurance coverage. 

The Robert Stempel College of Public Health & Social Work in particular has partnered with Colfuturo to offer funding and scholarships or tuition waivers for students pursuing degrees in Public Health, Social Work, Dietetics & Nutrition and Disaster Preparedness. See details here.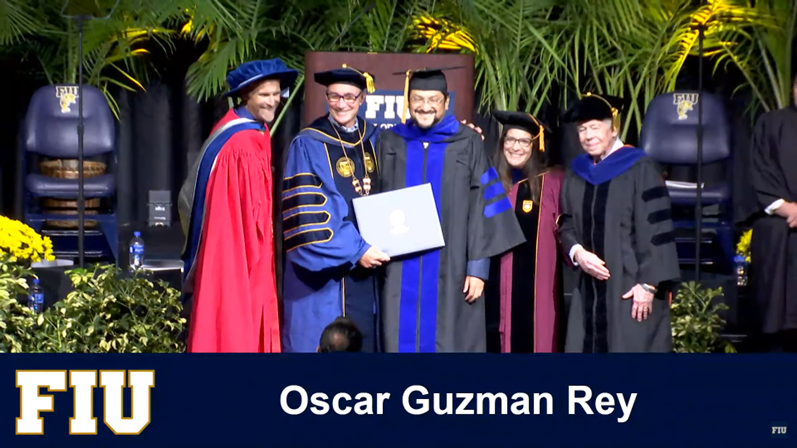 Congratulations to Oscar Guzman Rey who, sponsored by Fulbright, transferred to FIU from the Universidad Nacional de Colombia in 2018. As he received his Ph.D. in Earth Systems Science in Summer 2022, FIU recognized him as a Real Triumphs Graduate for extraordinary accomplishments in research and for already launching a business.
Felicidades!
2,500+

Participants from all across the globe joined the 2021 Global Health Conference organized by FIU in Cartagena December 2-5

573

Colombian students have received a degree at FIU since 2009

240

Active faculty and staff employees are of Colombian origin

20

Research grants have been awarded to FIU faculty to conduct collaborative research in Colombia, including 4 from USAID

19

Global Learning courses are currently being taught with a focus on Colombian studies

14

Collaborative Online International Learning (COIL) courses have been taught with Colombian institutional partners engaging more than 500 students in joint problem solving.

5

Colombian students are currently pursuing Ph.D. studies at FIU under a Fulbright grant
Visiting Fulbright Students from Colombia
The Tropical Rivers Lab, lead by FIU Professor Elizabeth Anderson, focuses on inter-institutional collaboration for science and capacity building to address challenges of Amazon conservation. Its Partners for Conservation in the Colombian Amazon project included multiple universities and 20+ other organizations resulting in 15 graduate fellowships to Colombian students, 23 research awards, and 100+ people participated in training courses.
Current projects: 
Living Andean Rivers: collaborators in all Andean-Amazon countries examine and communicate the importance of rivers from a social-ecological systems perspective. Within Colombia, the primary collaborator is the Pontificia Universidad Javeriana, which is designing and running a continuing education program for environmental managers on Andean Amazon river science, conservation and management.
Amazon Waters / Amazon Citizen Science: led by Wildlife Conservation Society aiming to understand fish migrations and environmental conditions across the Amazon through a participatory approach. Colombian collaborators are from the region around Leticia-Puerto Nariño.
For more information, visit http://www.tropicalriverslab.org
100K Strong Americas Innovation Fund Award
FIU and Universidad Católica de Manizalez (UCM) have been awarded a grant from the 100K Strong Americas Innovation Fund as partners in promoting Collaborative International Online Learning (COIL) and mobility.
The project Designing Alternative and Digital Strategies to Build US-COL Multidisciplinary Intercultural Identities will engage students at FIU and UCM in three COILs exploring alternative and digital strategies for expres sing hybrid US-Colombian identities in the arts, business, and communications. Building on COIL collaborations, five students and two faculty from FIU will travel to Manizales to participate in the "Odyssey Ad Creative Bootcamp" and five students and two faculty from UCM will join FIU partners in Miami to create a public exhibition of works created throughout the project. Project leads are Matías Andrés Marín Castaño, Internationalization, Director. UCM and Stephanie Doscher, Director, Office of COIL Initiatives, FIU.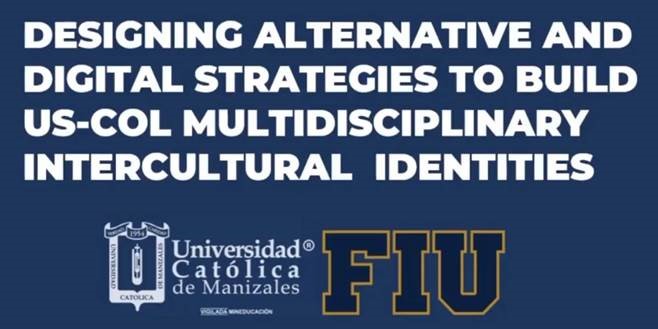 Emphasis on Public Health Enterprises
Center for the Administration of Justice
Justice Reform and Modernization Project (JRMP) in Colombia

From 2006 to 2010, the FIU Center for Administration of Justice (CAJ-FIU) implemented the important $20 million USAID Justice Reform and Modernization Project (JRMP) in Colombia. FIU's partners range from ministers of government and justice officials to embattled local officials and the rural poor in areas of difficult access and substantial danger, and include traditionally marginalized Afro-Colombian and indigenous communities.

CAJ's efforts included:

Strengthening the capacity of nongovernmental institutions to impact justice reform while addressing the needs of disadvantaged populations;
2 Victims Service Centers for victims of violent crimes in Paloquemao and Bucaramanga established and support for the creation of decentralized judicial centers;
Awarding more than $2.5 million in grants to 78 civil society organizations (special focus on vulnerable groups - Afro-Colombian, indigenous groups, women, and youth, to promote effective judicial reform and access to justice);
Promoting the organization of 5 civil society advocacy coalitions to expand rule of law agendas and to advance and sustain reforms (one for Gender and Justice and three Afro-Colombian Coalitions for Justice – one each in the North Pacific, South Pacific and Caribbean regions; and a country-wide youth coalition);
Consolidation of alternative dispute resolution (ADR) conciliation centers in 17 sites and improved services in others while training more than 1,000 Justices of the Peace, conciliators and community justice operators in ADR techniques;
FIU-supported conciliators in Soacha and members of the Indigenous Court in Sur de Tolima have been recognized as among the best non-governmental justice oriented programs in Colombia by the prestigious Corporación Excelencia en la Justicia (CEJ);
Organizing and training citizen oversight groups that carried out successful projects in Cartagena, Bogota and Cali;
Construction and organization of 6 Regional Justice Houses and 14 satellite Justice Houses primarily located in conflict-impacted areas;
Leveraging nearly $7 million in additional Colombian public and private financing for the construction of Justice Houses;
Implementation of the new criminal procedure code;
Building and equipping 5 PD Special Support Offices, 2 regional PD training centers and 17 PD regional offices throughout Colombia, and PD Training School (Escuela de la Defensoría Pública Roberto Camacho Weverberg (ERC)). FIU also helped ERC establish a virtual platform to permit virtual and distance learning;
Training justice professionals, including 1,750 public defenders, 526 private lawyers and 2,363 law students, in trial skills and procedures;
Introducing innovative initiatives to bring the new system to remote rural and conflict-impacted areas/ design and implementation of 18 virtual courtrooms on an internet-based platform;
In cooperation with the US-DOJ, CAJ-FIU conducted a national trial skills competition that eventually involved more than 1300 law students from 64 universities all over Colombia. Developed and consolidated ADR conciliation centers in thirteen municipalities in the Sur de Tolima, Macarena, Casanare, Nordeste Antioquia, Bajo Cauca and Norte de Cauca regions and improved the performance of two others in Soacha and Bogotá. The Project has also trained 1082 Jueces de Paz (JPs), conciliators and community justice operators in ADR techniques;
Helped create and train citizen oversight groups in Cartagena, Medellin, Valle del Cauca and Bogotá. Trained seven citizen oversight groups from Bogotá-based universities to monitor how justice-related issues were being managed at Bogotá's Comisarias de Familias.
Supervised the investment of more than USD$4 million in the construction of six regional Justice Houses (JH) and fifteen satellite JHs. Moreover, FIU negotiated approximately USD$6.8 million in construction costs from public and private Colombian sources. FIU-supported JHs, located mostly in conflict-impacted areas of Colombia processed more than 72,000 requests for assistance as of the end of 2009.  In June 2009, President Uribe and U.S. Ambassador Brownfield inaugurated Colombia's fiftieth JH in Tumaco, a community with a large, highly vulnerable Afro-Colombian population.
Helped the new accusatory system reach areas affected by the conflict or of difficult access by establishing twenty virtual courtrooms, connecting local police, prosecutors, public defenders and their clients with judges in large urban centers.

"USAID would like to commend FIU for its innovative work extending access to justice in Colombia. Specifically, FIU is commended for its success in the Colombianization of the Justice House Program by leveraging over $7 million from the GOC; creating and strengthening the National Gender and Youth Justice Coalitions through over $2 million in small grants to 73 Colombian NGOs; and enabling formal justice system to reach the farthest corners of Colombia through the implementation of 20 virtual court rooms."

Letter from Janet Ballantyne, USAID Acting Assistant Administrator, Bureau for Latin American and the Caribbean, 10/15/2009

Training Program for Upper Level Colombian Law School Students at FIU

CAJ-FIU has agreements with several Colombian universities and has implemented a training program for upper level Law students on the US legal system, alternative dispute resolution and money laundering as well.

The program, implemented in coordination with the FIU Law School, has been in place since 2011. Participating Colombian Universities include: Universidad Javeriana, La Gran Colombia, UDES (Santander), Universidad Católica, Universidad Libre de Bogota, Universidad Libre de Barranquilla, Universidad Libre de Cartagena, Universidad Libre de Cúcuta, Universidad Libre de Cali, Universidad Libre de Pereira and Universidad Libre de Socorro.

More than 900 students have participated in the program since its inception. Some of the courses designed and implemented are US Legal System a Comparative Analysis with the Colombian Legal System, Alternative Dispute Resolutions, Mediation, International Arbitration, and Money Laundering.
In the Spotlight
In 2005, the Colombia Justice Reform and Modernization Program (2005-2009) was initiated as SIPA's Center for the Administration and Justive was awarded a $19.7 million contract from USAID for the implementation of Colombia's new Criminal Procedure Code, which included the creation of a victims service center for victims of violent crimes, the promotion of civil society participation in judicial reform, and more.
For more information on the collaborative project, go to: https://caj.fiu.edu/projects/latin-america/colombia/