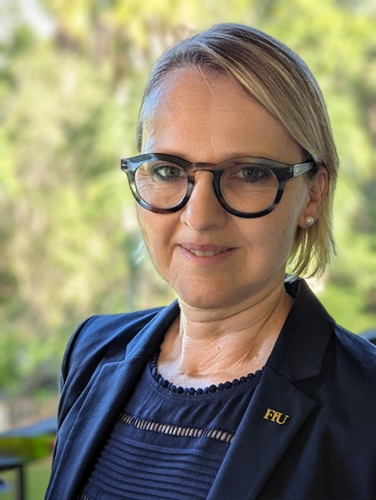 Birgitta "Gitta" Rausch-Montoto
Director of Global Strategy and Faculty Success
FIU Global
---
Phone: 305-348-3763
Email: gmontoto@fiu.edu
Other Titles: Fulbright Program Campus Liaison; Chair, International Travel Committee; Chair, Textbook Affordability Task Force
Bio
Birgitta "Gitta" Rausch-Montoto serves as Director of Global Strategy and Faculty Success. Her primary focus is on developing international and intercultural bridges between internal and external partners, implementing operational policies and procedures, and aligning the university's strategic global efforts with institutional priorities. She currently serves as Chair of the International Travel Committee and administers the Global Business Travel Insurance coverage for employees. In her role as Fulbright Program Campus Liaison, she has supported dozens of faculty with successful award applications, boosting FIU's overall participation in the program. In addition, since 2014, she has been chairing the university-wide Textbook Affordability Task Force which implements initiatives to ensure college affordability and meet the State's compliance requirements.
Gitta joined FIU in 2004 as Executive Assistant to the 4th President, Dr. Modesto Maidique. In 2006 she was appointed Chief of Staff in the Office of the Provost, leading the office staff, coordinating the Provost's standing Deans and Chairs Advisory Councils and Operations Committee meetings, and managing Board of Trustees Academic Policy & Student Affairs committee agendas as well as senior level appointment searches. Between 2009-2015 she assumed the role of Chair of the Commencement Committee and successfully conducted over 80 grand graduation ceremonies.
FIU is Gitta's two-time alma mater: she earned a Bachelor of Administration with a focus on International Business and a Master of Science in International and Intercultural Education. Before permanently moving to the United States, she was a banker (Bankkauffrau) by training in her native Germany. She is fluent in German, English and Spanish.